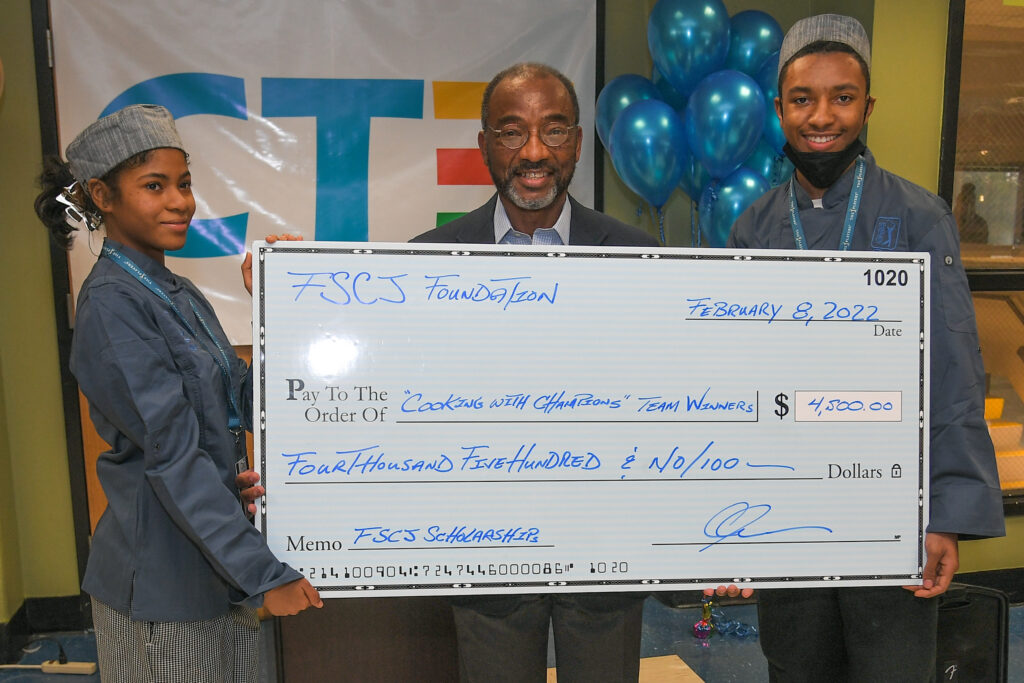 Feb. 9, 2022 – Outside may have been chilly, but temps were heating up inside Frank H. Peterson as culinary students from across the district fired up their burners in a special head to head cooking battle on Tuesday.
In total, five teams from four different high schools battled it out in the "Cooking with Champions" competition, an event sponsored by The PLAYERS and TPC Sawgrass. Each team had one hour to whip up their rendition of seared sea scallops, butternut squash risotto, and chermoula sauce while executive chefs from TPC Sawgrass looked on and evaluated the dishes.
In the end, it was the Frank H. Peterson team who snagged the win. The team consisted of student chefs, De'Cota Allen and Colun Smith, along with their faculty advisor Susan Dougherty .
Their prize was an opportunity to cook alongside TPC Sawgrass Senior Executive Chef, Ashar Mohammad, among other top chefs, during the PLAYERS championship in March.
Additionally, the students will receive a $1,500 scholarship from Florida State College at Jacksonville if they apply and are accepted into the school.
The "Cooking with Champions" event was a collaboration among THE PLAYERS, TPC Sawgrass, and the district's Career and Technical Education (CTE) Department with support from FSCJ and Publix.
Superintendent Dr. Diana Greene said she is thankful to the district's community partners for making these types of opportunities possible.
"These community partnerships are absolutely invaluable because they help create beyond-the-classroom experiences where our children can become familiar with real-world scenarios and connect with leaders and mentors in their field," said Dr. Greene. "The support we have from our community partners bolster the more than 50 Career and Technical Education programs available for both middle school and high school students."
District CTE programs range from culinary arts to web development, engineering, and aerospace sciences, and helps prepare students for the workforce of today and the future.
Thank you to our community partners and congratulations to all the student chefs!
The Teams
First Coast High
Amelia Greene
Brandon Caldwell
Henry Coffey
Chef Alfralisa Key – Faculty sponsor
---
Mandarin High
Hailey Stage
Elijah Melendez
Rose Elioner
Chef Chris Wilson – Faculty sponsor
---
(There were two teams from Sandalwood High)
Sandalwood High
Jasmine Barlow
Zella Wilson
Felix Cenicero
Chef Dionna Nelson – Faculty sponsor
---
Sandalwood High
Domonic Vargas
Aaron Meade
Isabelle Peugnet
Chef Carolyn Sowell – Faculty sponsor