June 9, 2020 – Going to kindergarten is a big step in a child's life, and it's a big step for parents too. A lot of parents may worry whether they've taught their kids enough to prepare them for the next step, which is why Duval County Public Schools has a Kindergarten Readiness Checklist. 
Kindergarten Readiness Checklist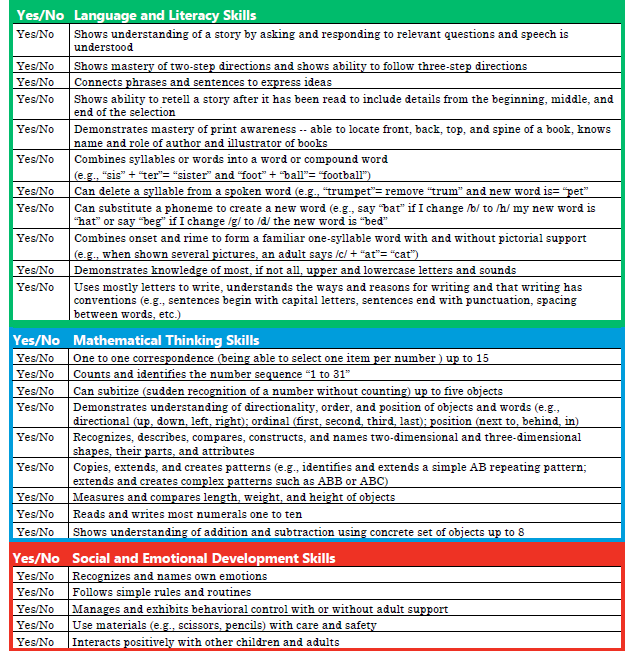 Now, you may look at the "Kindergarten Readiness Checklist" below and feel a bit intimidated. "Wow, my child has to know all that?" That's why we reached out to several early learning educators for easy suggestions on getting your soon-to-be kindergartners ready for academic success. Here are there tips:
Academics
Read, reread favorite books. Ask 5 W's and H questions to follow up.
Talk about name. How many letters and what sounds do they make?
Use sand, salt, playdoh, etc. to make letters.
Play rhyming games.
Support vocabulary by naming things in the house. The kitchen is great for this (i.e., spatula)
Tell stories and role play.
Computer literacy- have them learn their usernames and passwords for blended learning programs.
Create a quiet place in the home for homework. Understand the teacher's expectations.
Social
Show them how to socialize properly with peers and adults.
Teach, model, and expect respect of peers and adults/ authority.
Emotional
Talk about schedules-what to expect every day when school starts. (this will help them to understand they will go and come back)
Have them help with picking out clothes, packing lunch, etc.
Teach independence as early as possible. This will help them to navigate without Mom and Dad.
Let them be little. Don't expect too much.
Acknowledge their feelings and teach them how to respond to them.
Hold real discussions. No more baby talk.
Practice separation for kids' and parents' sake. (Participate in a Boohoo breakfast)
Once child and parent have overcome separation issues, consider volunteering in the school/ classroom occasionally.
As you get your little ones ready for kindergarten, don't forget that registration for Fall 2020 has begun. It is all online this year.
Register your child for Kindergarten
and work together to conquer that readiness checklist together. Let us know how it goes by contacting me at
[email protected]
, and follow us for more Kindergarten-related content.